More pictures stolen as blog crime-wave continues
I am clearly a cheater at heart. Shuzo has lots of lovely pictures up on his blog, and I want them for my own. So, for your viewing pleasure, I have stolen them and put them on display here.
Look - rice! We planted (mostly, Shuzo planted, but I did help, a bit) black rice, red rice, green rice, aromatic rice and an old local favorite called asahi rice. The red rice and aromatic rice (aka-mai and kaori-mai) are becoming quite nice to look at. See?
red rice: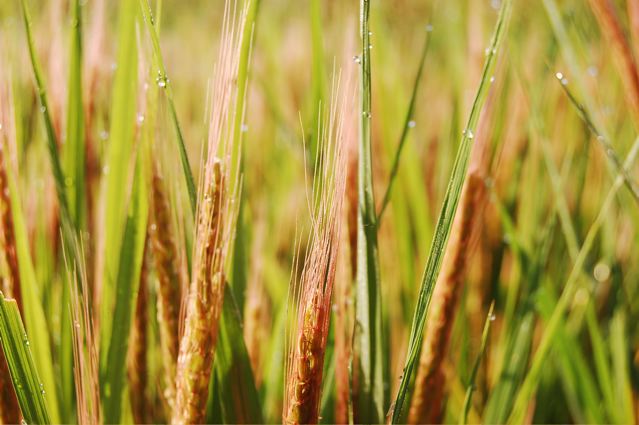 rice, bakery and house: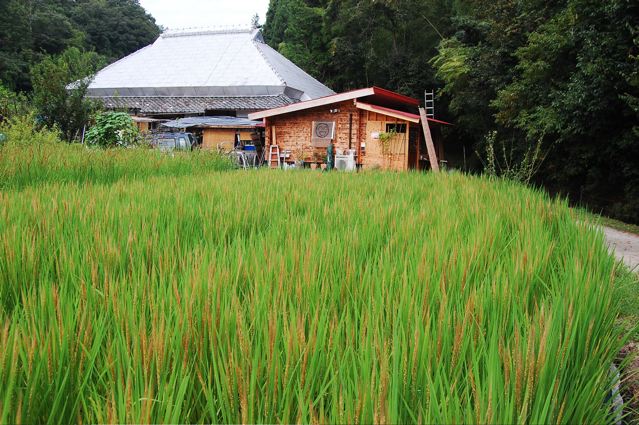 the view from the bakery and house:
Now, to take advantage of this, we are holding a Kodaimai Matsuri, an ancient rice festival. Grand words to say that for the next three weeks we will be selling ohagi (sticky rice balls with sweet bean paste, roasted soybean powder and ground sesame) made from our rice, which people may eat while watching the grass grow, or rather, I mean to say, while looking at the rice. On Saturdays they will be able to make their own ohagi. Or possibly just play with the grainmill and grind up some roasted soybeans, because on reflection we have come to see that with the outside sink not in working order, allowing people to play with food might not be the best course. As of this morning, Shuzo and I have both made ohagi. Shuzo planned and advertised the event without ever having made ohagi before, but I am happy to report that so far, all is well.